A Warm Welcome
Welcome to The College School at the University of Delaware! I am honored to be working with TCS' extraordinary educators as we carry out the School's mission together and provide the very best for bright students in grades 1-8 who learn differently. Learning differences can make it inordinately challenging for students to find success in a traditional school setting. If you found this webpage, you are likely looking for a program in which exceptional learners can thrive. The College School is that program, and it gives me much pleasure to write this note on the School's behalf. 
A dedicated focus on how the brain learns and what individuals need to thrive is the cornerstone of our mission. While some students at The College School have language-based learning differences (i.e. dyslexia) or ADHD, others simply need a warm, structured, and resourceful environment to reach their true potential. We are excited to welcome new students into our community, which feels like a family and thus a second home to the children who fill our corridors. Students at TCS know they belong, and they develop a profound amount of pride and joy in our setting, which capitalizes on their strengths and teaches them that success breeds success. 
Our hands-on STEAM program fosters integrated problem solving and critical thinking, promoting a deep understanding of various disciplines and engendering a passion for learning. A comprehensive focus on literacy and differentiated mathematics enables us to meet learners where they are and usher them forward as they build their skill sets and conceptual understanding. Physical education and the arts complement the student experience, and social-emotional learning goals are the lifeblood of our program. A sense of empathy, self-awareness, and feelings of safety and inclusiveness in the classroom create a foundation for learning and untold ripple effects. 
We invite you to make an inquiry and visit our unique location at the University of Delaware, where the research regarding best practices from the College of Education and Human Development directly informs what we do each day. Come and learn more about the innovative teaching and learning that happens here and the resultant joy that comes from progress and accomplishment. 
Yours in education, 
Andrea Glowatz
About Andrea Glowatz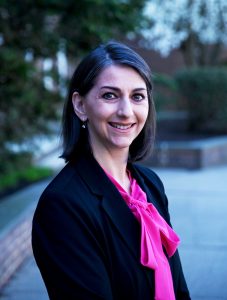 A career educator who has been in classroom and administrative positions for twenty-six years, Andrea Glowatz began her teaching career in New York. After various positions on two continents in both public and independent schools, she joined The College School in 2023 because of the undeniable alignment between her personal teaching philosophy and the mission of the School.
Andrea earned a B.S. Ed. in Education with a concentration in Language and Culture, an M.S. Ed. in Literacy (K-12), and a Post Graduate Diploma in Dyslexia, Literacy, and Learning Disabilities from the University of York in the UK in concert with Dyslexia Action, formerly known as The Dyslexia Institute. Andrea also holds a Certificate in Educational Administration from the Institute of Administrative Management in the UK. She has teaching experience at the elementary, middle, high school, and graduate school levels, and she has planned and facilitated numerous professional development workshops for faculty, parents, and trustees on topics such as curriculum design, literacy, assistive technology, misconceptions about student learning, and understanding and working with students who learn differently.
Andrea believes that the bridge between brain science and practical methodology in the classroom is consequential to a school's success and looks forward to the future of education with great optimism.