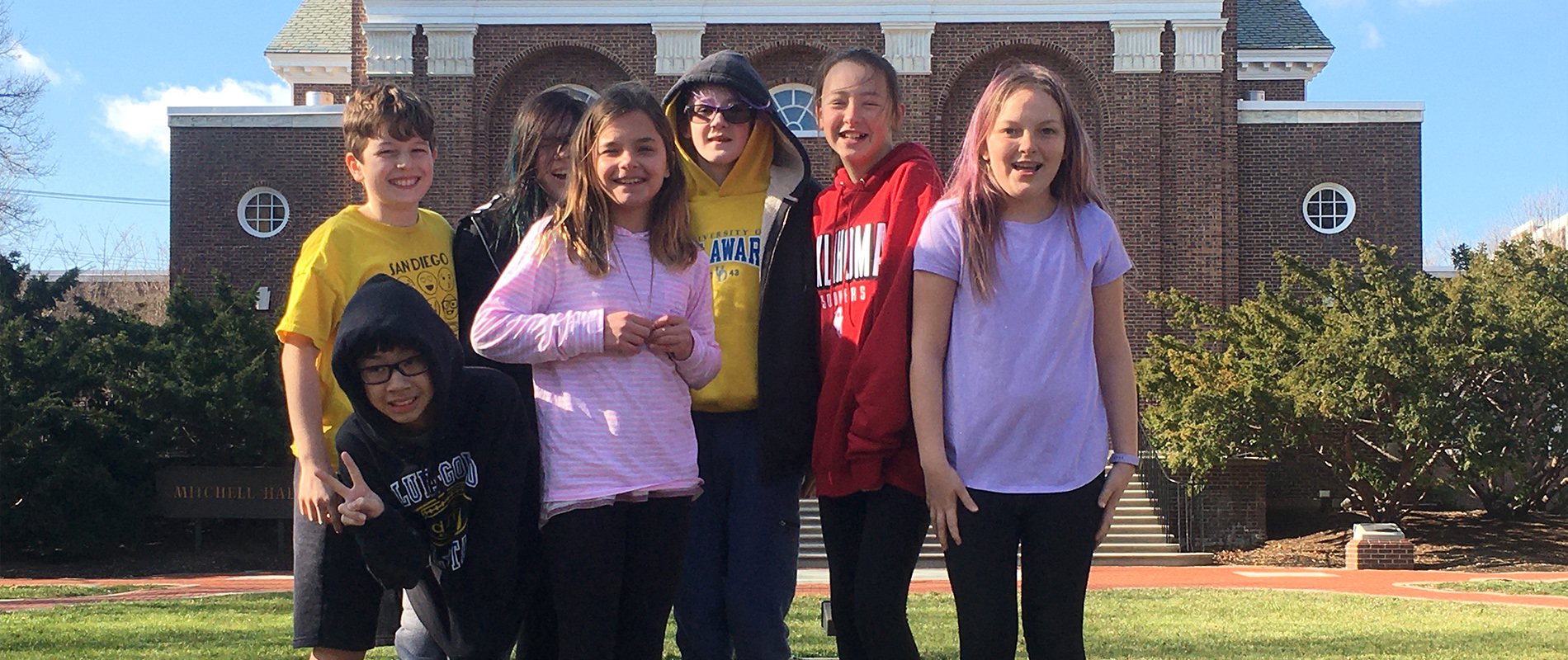 Our Mission
The College School's mission serves as the foundation to promote specialized programs, exceptional teaching and an engaged community of students and families that define an educational experience unique to a University setting. Our motto, Great Minds Learn Differently, inspires our purpose and is the basis for our guiding principles of kindness, perseverance and self-advocacy.
The College School's commitment to advance every child's ability and prepare them for a bright future is essential. Professional development at The College School is research-based and reflective of the expertise attained within and beyond the UD community. Teacher training throughout the year is relevant and vital to our success as educators of children with learning differences.
Our Purpose
The purpose of The College School is to:
provide an enhanced and caring learning environment that fosters academic success for children with learning differences.
prepare students to return to a mainstream environment
serve as a laboratory school for University of Delaware students and faculty
serve as a research site, primarily in the area of learning differences
offer model instruction for students with learning differences, as well as for University students who aspire to be educators, or practice in related fields
capitalize on the unique opportunities and resources afforded by our location on the University of Delaware campus
model the effective use of technology in education
Philosophy and Goals
It's a simple approach to the way we work at The College School, but one with demonstrated success.  At TCS children flourish in a kind, nurturing and supportive environment. The school recognizes that building strong self-esteem is essential to academic progress. As tasks are successfully completed, students become more self-confident and learning is enhanced. Through small class sizes, small group instruction, and individualized programs for learning, TCS students bridge the gap between potential and achievement.
Each TCS student is celebrated as a unique learner who has a combination of strengths and challenges/weaknesses.  Teachers capitalize on each child's strengths while simultaneously addressing areas to be improved.  We strive to achieve the delicate balance between "addressing unique learning needs" and "raising the bar" in order for each student to achieve his or her maximum learning potential.  Every day, in a safe and structured learning environment, out students' hidden potential is unlocked, learning becomes more enjoyable, confidence soars, and the process of becoming successful mainstream school students is well underway.
Independent Yet Collaborative
No other regional school for children with learning differences is backed by the expertise and experience of a major national academic institution like the University of Delaware.  The College School maximizes the power of research and teaching through the College of Education and Human Development to create a winning experience for your child.
The College School is a member of the Delaware Association of Independent Schools (DAIS).  "The Delaware Association of Independent Schools is an association of private, independent, and parochial schools from throughout the Tri-State area.
DAIS member schools work together to promote independent education as a choice for families in the Tri-State region. DAIS is a non-profit organization; its mission is to support and strengthen the administrative, financial and curricular activities of member schools by providing opportunities for cooperative efforts, inter-school collaboration and the exchange of ideas."
Our History
In early 1970, Susan K. Gray, staff members of Educational Services, Inc. and the Delaware Curative Workshop, Inc. recognized the need for a school for children with learning and/or other disabilities. In September 1970, Susan K. Gray founded Beechwood as a school for children needing special attention to acquire basic skills. For fifteen years, the school remained in Wilmington under her guidance.In 1985, the school moved to Newark to serve the increasing demand for these special educational services.
In the summer of 1988, Beechwood moved to the College of Education and Human Development at the University of Delaware and was renamed The College School. The move supported the College of Education and Human Development by providing a model school in which to train aspiring teachers and to conduct research.