Revised Schedule 1/3 – 1/7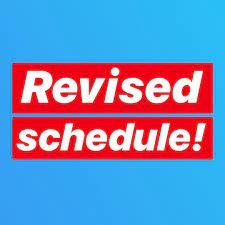 Dear TCS Families,
Greetings!  Hoping this note finds you well and enjoying the holiday season.
On December 29th, the University of Delaware sent an e-mail stating that all employees must be COVID tested at a UD facility before they can return to campus in January.  We are making arrangements to have TCS faculty/staff tested at the school on Monday, January 3rd.  I am still trying to get clarification from the university regarding whether or not TCS students will need to produce a negative COVID test before they are able to return to school.  As soon as I have an answer I will let you know.
January 3rd Update:  TCS students do NOT need to produce a negative COVID test result to return to school next week.  Keep in mind that this is a fluid situation and guidance from the university and agencies such as the CDC can shift quickly.
Consequently, we will need to follow a modified schedule for the first week back from winter break (1/3-1/7):
Monday-Tuesday will be Professional Development days to provide faculty/staff an opportunity to get tested for COVID-19 and to prepare for the remainder of the week

Wednesday-Friday will be virtual teaching/learning days for faculty and students–the schedule for these days will be posted to Schoology Monday afternoon
We know that in-person teaching and learning is best for our students.  Recent developments with COVID-19 and UD policy make it prudent for us to follow the revised schedule as outlined above.
The health and welfare of everyone in the TCS community is my top priority.  Implementing these measures will allow us to take the necessary steps so we are able to return to school safely and as soon as possible.
Please let me know if you have any questions.