UD Student Teachers Make the Most of Their Virtual Start!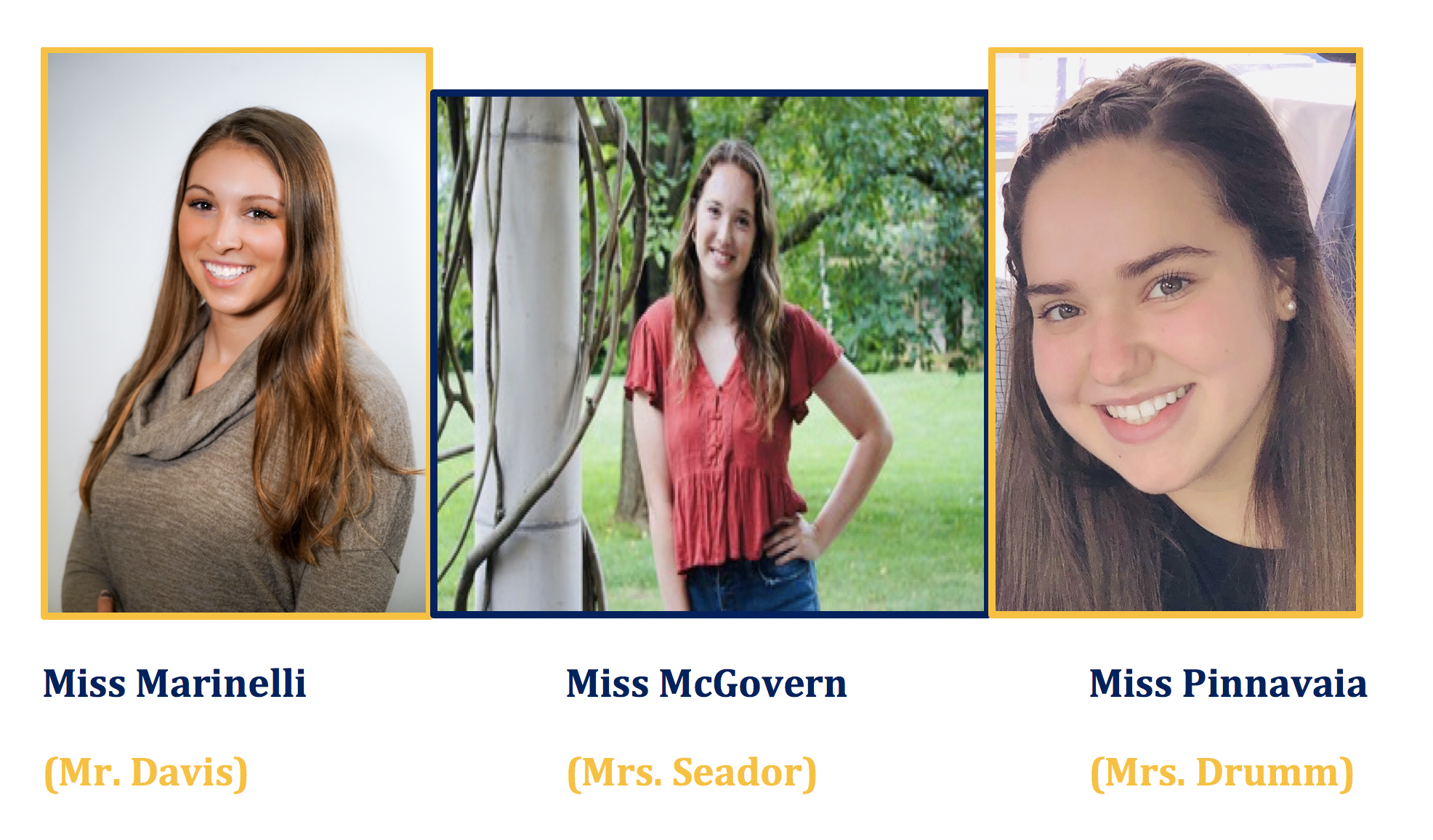 Dear Families,
Although your children have not yet had the pleasure of meeting their Teacher Candidates "live" and in person we are undoubtedly taking advantage of our virtual daily learning and interaction together!  It is students such as these who make us truly proud to be a part of the University of Delaware and the College of Education and Human Development.  These Elementary Teacher Education majors are just three of the stellar undergraduates joining our school team this fall.  We will be sharing more about them and quite a few others in our weekly updates ahead!
Today marked Day 3 of our reopening week! Despite some anticipated encounters with technology, our students and staff have been an amazing combination! We cannot thank you enough for your support at home as we navigate the first week of this new school year!
Fortunately, the rain held off while one of our classes took their first outing to the UD Creamery.  Tomorrow, we're hoping for the same luck with the weather as we wrap up the week with this special treat!
Sending a few reminders tonight, as I know it has been a "hit the ground running" kind of week!
Please don't forget to complete the Student Information Survey for your child a.s.a.p. Thank you to those who have already been able to do so.  Again, this is crucial information for us to have at school, so we urge you to submit it no later than Monday, September 14th.  Thank you in advance for your prompt attention.
Hot Lunch
Our first Hot Lunches of the year will begin next week on both Tuesday (9/15) and Thursday (9/17).  It's not too late to sign up!  the link can be found at the TCS website.
Schoology
A reminder to all parents to PLEASE remember to check Schoology! Many of the repeated questions that are being asked can be found in communications from your child's teachers.  Please take time to check out the updates from teachers.  And, if you are experiencing challenges logging on, please send an email to tcs-tech-help@udel.edu for assistance.
Digital Tools Meeting (Postponed)
There was a conflict with our "Digital Tools" meeting that was originally scheduled for Wednesday, September 16th.  We apologize for this inconvenience, and will propose a new date to you by next week.
TCS Picture Day
Our photo shoot will be held outdoors (by the garden island gazebo) on the mornings of Monday, September 14th and Tuesday, September 15th.  Here is the schedule below:
Monday
Krause's Homeroom
Pop's Homeroom
Drumm's Blue Group
*Optional photo day for remote students
Tuesday
Seador's Homeroom
Davis's Homeroom
Drumm's Gold Group
*Optional photo day for remote students
We want ALL students to be part of Picture Day! Parents of remote learners, please email Mrs. Baker to arrange a photo sitting.
NOTE: Students may select their attire on their assigned day; dress code will not be enforced.
Thanks again for a smooth start to our first week!  Your children have brought positive energy and radiance to our building again, and we are truly grateful!
All the best,
Laura