Developing Conversations with Children About Social Justice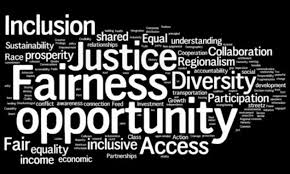 by Debbie Seador
Current headlines and events stress the importance of talking to children about social justice including diversity, discrimination, and racism. There are great benefits to engaging children in meaningful age-appropriate conversations around these subjects. Taking this approach demonstrates to children that they are able to promote change and cross-cultural understanding, disrupt inequality and model respectful treatment of those with differences. By empowering children to believe they can make a positive difference they will become the change makers this world needs.
Discussions with children regarding social justice may be difficult to broach. Some of the most effective platforms for discussing important thought-provoking topics are the conversations between an adult and child around and through the use of picture books. When books are shared they provide a safe space to talk, listen and learn. This builds natural conversations and meaningful discussions about the topic at hand. In order to get the most out of a conversation, here are some suggested approaches:
Ask the child questions about what they are thinking, feeling, and experiencing regarding the topic.
Share your thoughts, feelings, and experiences with clear, direct, and thoughtful responses.
Model the need to take time to thoughtfully craft a response and/or gain more information on a topic from reliable sources.
Keep the topic open, a book is a foundation for beginning discussions, and when its pages close the conversation and learning should continue.
As Horton said in the popular book Horton Hears a Who by Dr. Seuss "A person is a person no matter how ____ (insert difference here)."
Here are some great books and valuable resources when starting a conversation about social justice:
Hair Like Mine and Skin Like Mine by LaTashia M. Perry
You Matter by Christian Robinson
The Day You Begin by Jacqueline Woodson
I Am Enough by Grace Byers
Wings by Christopher Myers
All Are Welcome by Alexandra Penfold
Say Something by Peter H. Reynolds
Let The Children March by Monica Clark-Robinson
Martin's Big Words: The Life of Dr. Martin Luther King, Jr. by Doreen Rappaport
When Jackie and Hank Met by Cathy Goldberg Fishman