The Science of Reading and What Parents Need to Know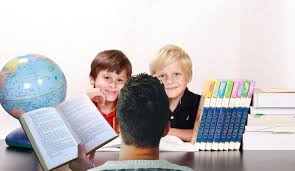 -Kathy Seeman
Last summer, late one Saturday afternoon, my girlfriend, Tina and I stopped at a Tag Sale in Centreville on our way to a flower show. I glanced through a stack of dusty books placed in an old, dilapidated box and my eyes were drawn to a specific book that I had heard about, but never read. What was that book? I pulled out a dusty copy of Why Johnny Can't Read. Delighted with my one-dollar purchase, I threw it in my bag and went on about my day.
Later, when I sat down to peruse the book, I was so enamored that I promptly read the whole book, cover to cover. This book, in its day, began a spirited worldwide debate on the proper methods for teaching children to read. Guess what? The debate on how to effectively teach reading has been around as long, well, as long as there has been reading itself.  The book, Why Johnny Can't Read, was written by Rudolf Flesch after he was asked to teach a young friend to read and soon found himself confused by the American system of teaching reading. As a German, he himself was steeped in the lessons of phonics as a young reader and wondered why American schools were not doing the same. He began a quest to find the best methods for teaching reading to all students, thus becoming his life-long work. Flesch then used his extensive research on the science of teaching reading to prove how a strong literary base rooted in phonics and decoding was the only way to effectively teach learners to read. Flesch's book made a stir, but utilizing these proven reading methods did not. In fact, the opposite happened, our country moved further away from scientifically-based reading practices and educators embraced what we refer to today as Balanced Literacy.  These "practices" have been a deterrent for many American  children, as phonics are taught sparsely in whole group settings. Additionally, most teachers have not been trained in effective practices of phonics instruction. Sadly, for the 1 in 5 students who are dyslexic, the direct systematic teaching of phonics is the only way they will successfully learn to read. The fallout is seen in the annually collected data:  In 2019, only 35% of U.S. 4th-graders were proficient in reading and 34% of 8th-graders were proficient in reading. Overall, student progress in reading has stalled in the last decade.  According to a NY Times article quoting the National Center for Educational Statistics, the highest performers are stagnating while the lowest-achieving students fall further behind.
At The College School, we aspire to use the very best in reading research to close the gap for students who have struggled to learn to read in previous, more traditional settings. Our results are powerful, as we skillfully align practices from Orton-Gillingham and Wilson Reading to offer proven methods of direct, systematic instruction and sync them with strong research-based comprehension and writing programs. Together, these provide our students with a solid foundation, as well as the essential tools they need to achieve grade-level expectations in reading and writing.  The College School's mission is to help students identify their strengths as learners, provide scaffolding to create a flourishing educational environment and foster reading goals and objectives that will ensure success in their lives ahead.