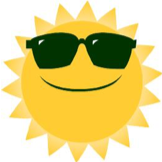 Dear TCS Families,
While it is never easy watching the final days of summer come to an end, there is still a stirring anticipation about the return of fall and a fresh start to a new school year. In that spirit, preparation at TCS has been well underway these past few weeks, so there is a LOT to get excited about as we begin this year!  Currently, we are in the process of completing some innovative projects and spaces throughout the building.  We've purchased some computers, along with some new online programs and tools that will enhance student learning and success. You will also sense a freshness as you walk through the building as a some of the newly painted walls, freshly waxed floors, and carpeting have our building looking sharp!
At this point, I hope that most of you have signed into Schoology and logged onto the Parent Portal.  Here you will find some sign-ups (i.e. donating a Thursday Hot Lunch snack), as well as the Parent Survey and other forms you will need to complete prior to 9/3.  Additionally, don't forget to view other important material on our website under the drop-down menu, FAMILIES www.collegeschool.udel.edu/families where you may sign your child up for weekly Hot Lunches, download the school calendar and MORE!
We are thrilled to welcome MANY new & returning students, as well as new teacher, Mrs. Kathy Seeman, a new graduate student, Alexandra Jones and our new internal Financial Manager, Cheryl Macey to our "TCS family!" I am hopeful you will get to meet them on 8/28 at the Welcome Social! Again, all new families may come from 3-4 to participate in a parent orientation session that will allow time for questions and answers about the upcoming year. In the event that you cannot attend the social, we will include the power point presentation under the "Announcements" section of our website.
I know this year will be one of promise @ The College School, and one in which every student will Make their Mark by growing, advancing and succeeding! My staff and I look forward to working closely with YOU, our families, as we approach a brand-new year together. Thank you for your committed engagement to your child's education…and thank you again for choosing The College School!
Enjoy these remaining days of summer!
All the best,
Laura Dougherty