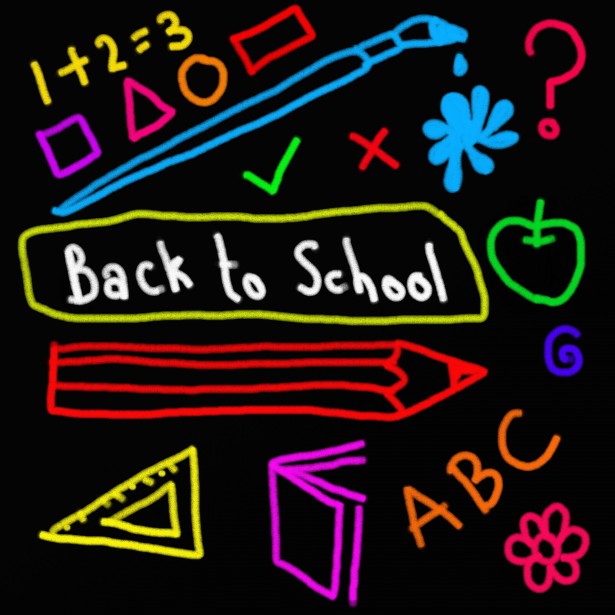 -Laurie Drumm
It's hard to believe, but it's almost that time of year already!  Summer has flown by and now it is time to start thinking about and planning for that transition back to school.  Here are some tips to help make that transition just a little easier!!
Get excited!  While parents might already be looking forward to the first day of school often students aren't quite as ready.  Make shopping for school supplies an event – Allow students to some choice when possible, and maybe they can even pick out a colorful, stylish addition to their supplies – think locker chandelier, fancy book covers, or special character on a folder or notebook.  Provide closure to the summer on a positive note – cross one more thing off of the summer bucket list!!
Slowly ease back into a school routine.  Gradually adjust bedtimes – remember, experts say children ages 5 – 12 need 10 – 11 hours of sleep each night.  Create a structured morning plan so those first days run smoothly, and ensure that everyone eats a nutritious breakfast.  Take time now to establish after school rules, including when and where homework will be completed.
Get organized.  Plan school lunches in advance – provide students with healthy choices to nurture independence.  Set up your family calendar, including Back-to-School Nights, sporting events, and weekend commitments.  Create a "launch pad" – a staging ground of sorts where all items needed for the next day can be gathered – shoes, backpacks, sporting equipment, instruments, etc.
Complete all surveys and paperwork in advance and return to school promptly. This will allow you to focus on supporting your children through those first few days of the transition and ensure that the teachers and the school staff have all of the necessary information to provide all students with a successful start to the new school year.
Do a practice run.  Practice the process of getting ready and out the door in an efficient manner.  This will let you know how much time to allow in those first school days.  Also, visit the school, meet the teachers, and get to know new classroom spaces.
See you soon!!