The Dreaded (Not!) Summer Reading…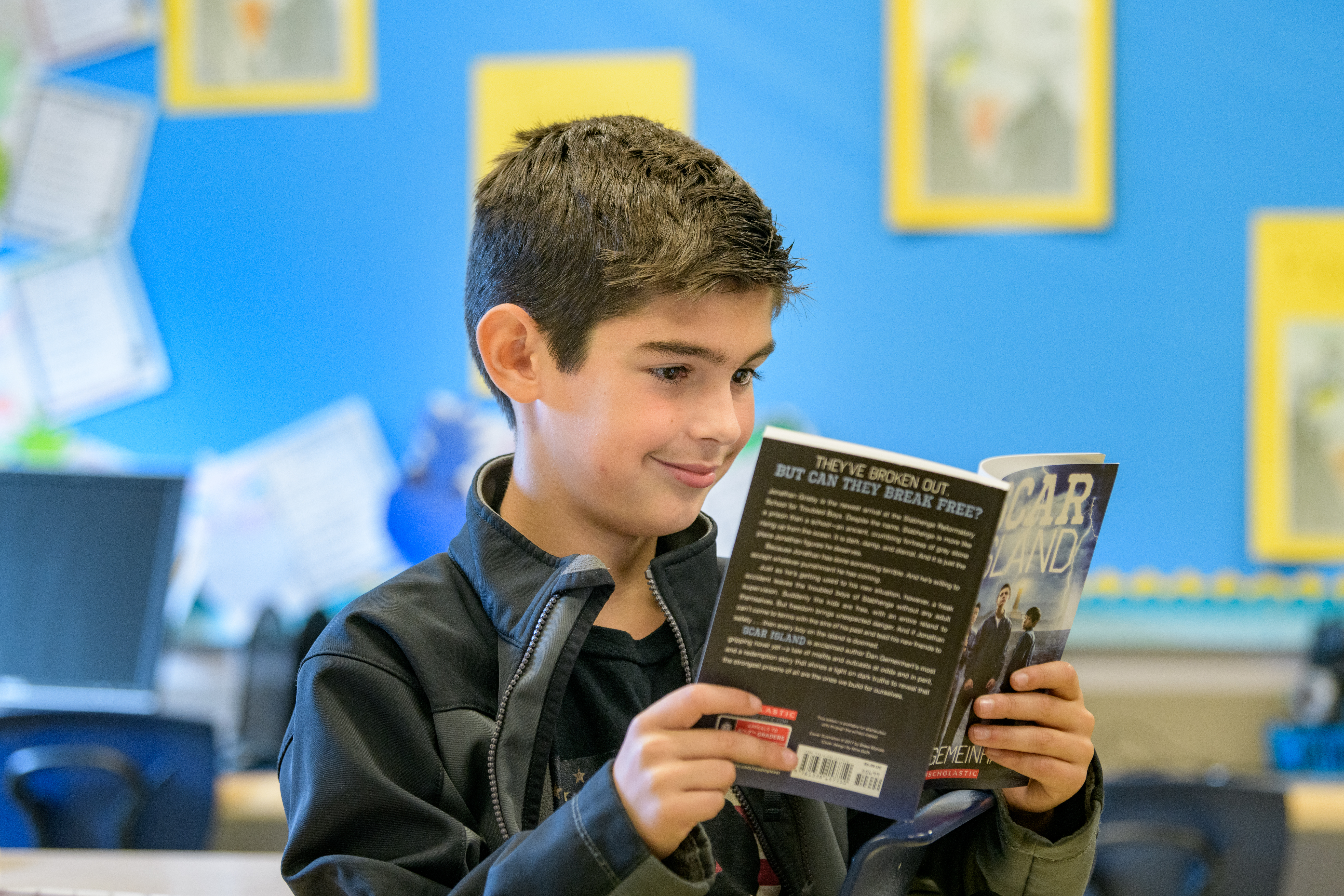 What would it be like if you did not brush your teeth or your hair for an entire day?  What about if you were separated from your phone? Most of us would feel a little off or unbalanced because these well-ingrained habits are woven into the rhythm of our day.  Reading can be another one of those activities that helps us feel complete by the time we drift off to sleep.  But how do we instill this behavior as a habit in our children when YouTube, video games, and TV have such strong allures?  We make it engaging, relevant, and fun, and the rest will take care of itself.  Below are 5 suggestions for guiding your child towards a break full of swimming, sun, AND stimulating summer reading.
Read aloud to and with your children–even to your teenagers.  You might feel like your kids are too old to be read to, but many children, teens, and adults listen to podcasts and books on CD, so reading aloud with your child is no different!  If you are up for a challenge, find longer books that sound interesting to both of you (like the non-fiction Bomb:  The Race to Build–and Steal–the World's Most Dangerous Weapon or the fictional story The Invention of Hugo Cabret ) and set a goal to finish reading it together by the time Labor Day rolls around. Readbrightly.com has suggestions for read-aloud books that appeal especially to older children if you are not sure where to start. And if a thick brick of a book seems too overwhelming, choose a few sophisticated picture books that were written with older readers in mind; they can be easily ingested and digested in one sitting (maybe with a scone and an iced coffee at Little Goat Coffee Roasting, Co. or while licking an ice cream cone outside the UD Dairy?)  You and your child will enjoy the nuances and the mysteries presented in the engaging sophisticated picture books of authors such as Chris Van Allsburg, Jeannie Baker, and others mentioned here.  And if you'd rather join in on the listening fun, check out mutually-interesting books on CD from the library or access texts through Audible, Hoopla, or Overdrive while you are spending time in confined spaces like the car, an airplane, or even on the beach.
Pair reading with movie nights.  Literally hundreds of children's books have been adapted into movies, so send your children to Common Sense Media's list with the mission of finding an appealing title.  Adlit.org  has ideas for books and movies that feature older themes and topics.  When your child finishes the book, host a family or friend movie night with candy, popcorn, and pillows (bonus points if you are able to project the movie outside under the stars.)  After the credits roll by and everyone's bellies are full, ask your reader to describe the major similarities and differences between the book and the movie and challenge them to decide upon which one they like better (our bet is on the book!)
Don't forget non-fiction texts and topics.  Reading is not synonymous with fiction, but sometimes children and their parents forget about the entire section of the Dewey Decimal System in between 000 and 999– the non-fiction text.  Children are naturally curious, so try tapping into that innate desire by figuring out what really interests them; is it creating their own Youtube channel? BMX racing? Making friendship bracelets?  No matter the topic, the library and the internet will surely have written resources that children can use to learn a new skill or to gain interesting knowledge. With books like Girl Code: Gaming, Going Viral, and Getting It Done, The Guiness World Record Book 2019, and Something Rotten:  A Fresh Look at Roadkill, your child will surely find something to enjoy.  Goodreads and ReadBrightly.com will provide them with numerous popular non-fiction titles to choose from.
4)  There is much more to reading than just books!  Subscribe, in your child's name, to high-interest magazines like Sports Illustrated for Kids or National Geographic World.  Not sure what publications would be appropriate?  Reading Rockets has done the work for you by compiling a list of high-interest magazines with children in mind as the audience.  Some magazines, like Brainspace, even have digital components that allow subscribers to scan images for videos or audio augmentation.
5)  No matter what approach you take, make sure that your child's summer reading list is filled with lots of choice and that they see YOU reading throughout the summer with a variety of texts yourself (i.e. hard copy, electronic, and/or audio books or podcasts) to model the kind of behavior you would like to see in them.  After all, famous poet Ralph Waldo Emerson–who probably spent many summers reading and writing himself–underscored the importance of practicing what we preach when he said, "What you do speaks so loud that [your children] can't hear what you say."
Have a fun and reading-filled summer vacation!