The Importance of Relationships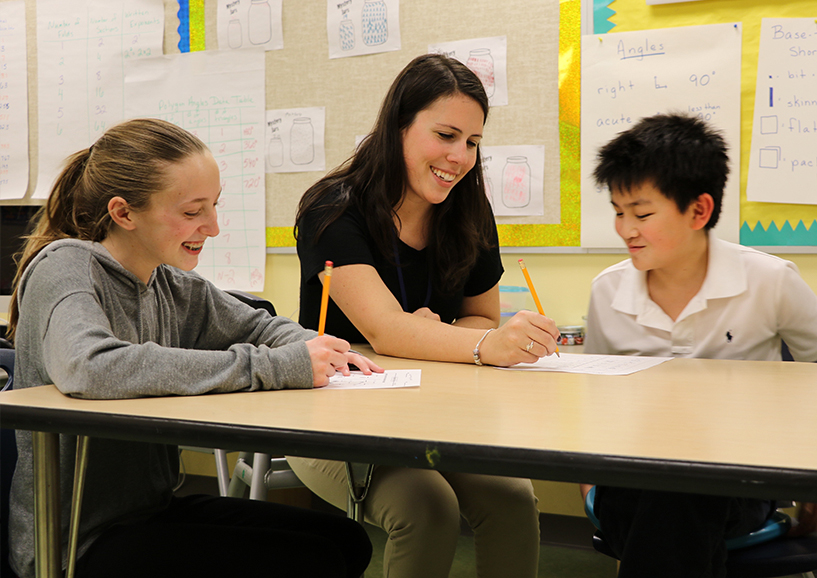 Posted by Laura Dougherty on May 1, 2019
Throughout my years at The College School, one element that remains steady and essential is the special bond formed between our teachers and students.  As an educator, I've always believed that relationships with students is vital to their learning. Students engage and join in learning when they feel a close connection to their teachers. A supportive classroom environment begins when great relationships are created.  So how do TCS teachers cultivate these strong bonds?
Connect
Greet students by name and make eye contact as they walk through the door.  Smile. Ask them questions. Take a moment to ask them their opinion about something like music, sports or a recent movie they've seen.  Joke with them when possible. The non-verbal fist bump and high five may also be great ways to connect. Try to know a few things about each student that are totally unrelated to school.
Empower
Believe in them. Look for opportunities to validate each child's strengths. Encourage them. If they know you're on their side, you'll have far more impact. Inspire and reassure them.  Tell them they will go on to do great things in the future. Help them secure their confidence and capitalize on their strengths.
Personalize
Try to meet students where they are. Know what they're passionate about and find opportunities to connect learning to their interests. Provide experiences that allow them to lead or participate in a discussion. Place personal responsibilities on their shoulders that will encourage them as learners.
Focus
Notice when a student is having a bad day. Offer encouragement. Stop and listen—this attention can be critical. Most times, we make our daily lesson plans a higher priority than our purpose. Sometimes, we may need to let our plans go—even when this takes us off track. Remember that focusing your time and attention on a child doesn't have to occur during the school day.  You can send an email to their parent, leave a voicemail message or mail a postcard with an encouraging note.
Forgive
Grant your students that fresh start at school each day. Don't allow something that occurred yesterday to carry over and keep you from moving forward today. Forgiveness protects relationships and forces you to set the frustrating moments aside and believe that this day will be a better one. Remember that they are not adults…they're still kids. And, when you accept them despite their slip-ups, you'll feel better about yourself and enjoy teaching them far more.
As educators, we must all commit to building better connections with our students, while helping to develop their educational, social and emotional needs. I am proud of the bonds formed at TCS each and every, and I'm confident that our values around strong relationships will ensure success in our current students and future graduates for many years to come.